Telemedicine Learning Module
The World Health Organization (WHO) has adopted several definitions and resolutions to support the adoption of technologies in health care services:
eHealth: the cost-effective and secure use of information communication technologies (ICT) in support of health and health-related fields, including health-care services, health surveillance, health literature, and health education, knowledge and research.
mHealth: mobile health, defined by the use of mobile devices – such as mobile phones, patient monitoring devices, personal digital assistants (PDAs) and wireless devices – for medical and public health practice. Examples cover a broad spectrum: telephone helplines and text message appointment reminders, to mobile telehealth and mobile access to electronic patient information.
Telehealth: the delivery of health care services, where patients and providers are separated by distance. Telehealth uses [information and communications technologies (ICT)] for the exchange of information for the diagnosis and treatment of diseases and injuries, research and evaluation, and for the continuing education of health professionals. Telehealth can contribute to achieving universal health coverage by improving access for patients to quality, cost-effective, health services wherever they may be. It is particularly valuable for those in remote areas, vulnerable groups and ageing populations.
eLearning: the use of ICT for education.
Electronic health records (EHRs): real-time, patient-centred records that provide immediate and secure information to authorized users. EHRs typically contain a patient's medical history, diagnoses and treatment, medications, allergies, immunizations, as well as radiology images and laboratory results. A National Electronic Health Records system is mostoften implemented under the responsibility of the national health authority and will typically make a patient's medical history available to health professionals in health care institutions and provide linkages to related services such as pharmacies, laboratories, specialists, and emergency and medical imaging facilities.
Source: Global diffusion of eHealth: making universal health coverage achievable. Report of the third global survey on eHealth. Geneva: World Health Organization; 2016. Licence: CC BY-NC-SA 3.0 IGO.
Have you ever received a text message from a healthcare provider to remind you of an upcoming appointment? Did you have a phone consultation with your GP during the COVID-19 pandemic? Perhaps you were told to use a contact-tracing app? These are only a few examples of mHealth (use of a mobile device for medical and public health practice).  According to the WHO and several studies, mobile wireless technologies have the potential to revolutionize how populations interact with national health services. mHealth has been shown to improve the quality and coverage of care, increase access to health information, services and skills, as well as promote positive changes in health behaviours to prevent the onset of acute and chronic diseases, as stated in the WHO Executive Board report from 2017. 
The same report emphasizes on the significant potential of mHealth to accelerate the progress towards universal health coverage, particularly: 
All Member States of the WHO made a commitment to achieve universal health coverage back in 2005.
In some more remote or underserved areas and communities, mobile communications infrastructure may have been prioritized over infrastructure supporting Web access 
There is a similar rate of mobile phone subscriptions in many low and middle income countries when compared to high income countries
The cost of using mobile phone technologies is lower than the cost of providing in person services in many low and middle income countries
This suggests that there exists a potential for mHealth to contribute to achieving universal health coverage (UHC).
The main applications of mHealth are: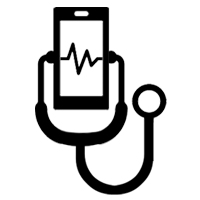 Between patients and health services
Call centres, telephone helplines, emergency toll-free
Between health services and patients
Reminders for treatment adherence and appointments, health campaigns
Between healthcare professionals
Mobile telehealth
Others
Emergency management systems, decision support systems, mLearning, patient records, etc.
Telemedicine is a sub-domain of telehealth that involves a healthcare provider providing a medical service (the focus is on the curative aspect of care) to a patient while not being in the physical presence of each other. It can be in real time (audio or video call) or asynchronous (store-and-forward: data is sent to the healthcare provider, who reviews it in their own time, e.g. via email). Several medical specialties are already known to offer these services in some regions: primary care, paediatrics, thoracic, heart health, renal, endocrinology, eating disorders, genetics, neurology, oncology, multiple sclerosis, pharmacy, psychiatry, etc.
Telehealth on the other hand includes disease prevention and digital health promotion on top of curative care. 
Click here to learn more about the telemedicine solution.
Click here for a global guide to telehealth with country-specific information and regulations.
Telemedicine for remote monitoring
Remote patient monitoring (RPM) is a category of ambulatory healthcare where a patient uses a mobile medical device to self-monitor while a medical staff has real-time access to the data. Such device can be a glucometer, a blood pressure monitor, a vital sign monitor, etc.
Health care systems around the world have been rolling out digital patient monitoring system to support the remote management of patients living at home or in care homes. In England, Liverpool was a trailblazer in 2013 when they launched a large-scale telehealth program providing education and remote monitoring tools to support people living at home with lung conditions, heart failure or diabetes. For the East London NHS Foundation Trust for example, the aspiration of such a program was to empower patients to self-manage at home, improve patient care and reduce demand on the local care economy. For NHS England, the COVID-19 pandemic caused its 'At Home' rollout scheme to be ramped up, benefiting to thousands of respiratory patients who were given home monitoring devices and apps so that their condition could be monitored remotely by healthcare professionals.
While different reports claim different growth rates for the global telehealth market, they all anticipate a substantial growth accelerated by the COVID-19 pandemic for the period spanning 2020-2024.
The Japanese Shibuya-ku's outlook is more conservative with a compound annual growth rate (CAGR) of 7.95% to reach US$20.18 billion in 2024 whereas Frost and Sullivan anticipate 38.2% CAGR.
It is important to note that regulatory frameworks are very much country-, even state- or region-specific. 
Mordor Intelligence's expected market growth trends for remote patient monitoring systems (2017-2025):
Asia-Pacific: high (fastest growing)
Middle-East and Africa: low
Europe: medium
North America: medium (largest market)
South America: low
Several technologies such as artificial intelligence (AI) and the Internet of Things (IoT) can augment the telemedicine offering, and standards known as Health Level 7 make collaboration possible across technologies and devices.
Artificial intelligence (AI) involves the ability of a machine to exhibit various capabilities of the human mind and to combine them to perform the functions a human might perform. It is a very broad sphere of computing technology that is already deeply embedded in our day-to-day lives. Machine learning is a subset of AI application in which human input is necessary and a specific task is designed to be performed by a type of algorithm that can identify patterns and learn how to reprogram itself to continuously apply its learnings to future similar scenarios as it processes more data. This makes it an ideal prediction tool. Even more specific is deep learning, a subset of machine learning that no longer requires human intervention to make decisions. These algorithms are able to learn by themselves and make decisions. They possess the ability to teach themselves how to perform a specific task and continually evolve to improve their performance. A deep learning algorithm can, for example, analyse and classify data on its own.
Even though AI was already being developed in the 1950s, its applications only really took off in the 2000s for the field of medicine when significantly more computing capacity became widely available and more medical data had been compiled and shared between institutions worldwide. Prior to that, a lack of computing power and the scarcity of large datasets meant that machine learning algorithms were too focused on a specific dataset to accurately process new datasets.
Click here to learn more on the top 4 applications of AI in medicine, namely AI for diagnostics, drug development, treatment personalisation and gene editing.
AI for medical imaging
AI in gastroenterology
AI in endoscopy
AI for medical imaging
AI in medical imaging has a strong potential to improve accuracy, consistency, and efficiency in reporting. AI can also assist with lesion detection, diagnosis, predictions (for prognosis and response to treatment) and medical report composition.
Example:
Arterys was the first U.S. FDA–approved clinical cloud-based deep learning application in health care back in 2017. They offer cardiac, respiratory, chest & musculoskeletal as well as neurologic AI solutions. For example, their Chest and Musculoskeletal AI can be used to detect seven common abnormalities seen on x-ray images in emergency departments: fracture, dislocation, elbow joint effusion, pleural effusion, pulmonary nodule, pulmonary opacity, and pneumothorax while Neuro AI has unique applications for stroke detection on CT images and tumour detection on magnetic resonance images.
Several other recent advances in the field of AI in medical imaging have made headlines in 2020 as reported by Analytics Insight. A deep learning algorithm developed by EndoAngel Medical Technology Company achieved a performance comparable to expert radiologists when detecting COVID-19 in chest CT scans. Nanox developed the Nanox System, a mobile digital x-ray system that uses AI cloud-based software for early diagnosis and is in the process of taking their technology further to develop a new x-ray machine for tomographic imaging of the lungs.
AI in gastroenterology
AI in endoscopy
AI feeds heavily on data in order to improve its accuracy and specificity; it makes for a very organic match with the Internet of Things, and its passive accumulation of data.
The Internet of Things (IoT) is a network of things that use the Internet to communicate and exchange data between each other.
Such things are physical objects or devices that are embedded with sensors, software and other technologies. They are already widely available commercially with some well-known examples such as smart LED bulbs, Alexa, smart robot vacuum cleaners, etc. In the medical world, they take the form of patches that can detect and communicate physiological parameters, smart pills that contain a miniature sensor that starts transmitting data once swallowed, bed that can detect movement and notify the medical staff, smart ambulance systems to efficiently route ambulances, etc. According to Goldman Sachs, the Internet of Medical Things (IoMT) has the potential to unlock savings of $300 billion annually for the healthcare industry. The global IoMT market was valued at $44.5 billion in 2018 and is expected to grow to $254.2 billion in 2026, according to AllTheResearch.
Health Level 7 (HL7) is a set of international communication standards that enables the sharing of electronic health information. It is produced by Health Level Seven International and adopted by other issuing bodies such as American National Standards Institute (ANSI) and International Organization for Standardization (ISO). These standards focus on the application layer, which is "layer 7" in the Open Systems Interconnection model (OSI model). The OSI model aims at allowing interoperability of communication systems with standard communication protocols regardless of their underlying internal structure and technology.
Global Internet of Medical Things (IoMT) Market -Industry Outlook 2016-2026 – AllTheResearch
HL7 Standards – Section 1: Primary Standards | HL7 International
Hugo Peixoto, Tiago Guimarães, Manuel Filipe Santos, A New Architecture for Intelligent Clinical Decision Support for Intensive Medicine, Procedia Computer Science, Volume 170,2020, Pages 1035-1040, ISSN 1877-0509, https://doi.org/10.1016/j.procs.2020.03.077.
IoT in Healthcare: Use Cases, Trends, Advantages and Disadvantages | Existek Blog
Medical Imaging Cloud AI – Arterys
Telehealth Market Key Major Challenges, Drivers, Growth Opportunities Analysis – Comserveonline
Vivek Kaul, Sarah Enslin, Seth A. Gross, History of artificial intelligence in medicine, Gastrointestinal Endoscopy, Volume 92, Issue 4, 2020, Pages 807-812, ISSN 0016-5107, https://doi.org/10.1016/j.gie.2020.06.040.
What is Artificial Intelligence (AI)? | IBM