RVS-100 Vital Signs Monitor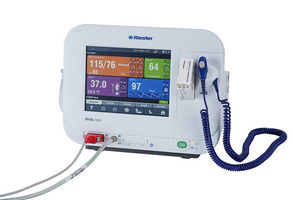 Riester's RVS-100 is an advanced vital signs monitor which offers pulse oximetry, blood pressure and temperature measurements. The device has 'Monitor', 'Spot-Check' and 'Triage' profile options and a high performance touchscreen.
The RVS – 100 can communicate through a wired or wireless connection to the hospital's EMR, according to the HL7 standard. The highly flexible, modular design offers many configurations and settings to suit the needs of hospitals, clinics and private practices, as well as long-term care settings.
This course will introduce you to the Riester RVS-100 Vital Signs Monitor in 2 parts, followed with a short quiz. Due to the various features of the device, the quick start guides were separated by function.
Presentation: key learnings from the Patient monitoring systems learning module
Quick-start guides
Quiz
Additional documentation is available in the second section of this course.
RVS-100 Vital Signs Monitor